Americas Choice
We pride ourselves in safely transporting your home from point A to Point B. We transport all over the state of Ohio. However, transporting your home is not the only service we provide.We are a one stop shop when it comes to your manufactured home needs. We are licensed Contractors and provide services to prepare your home for transport as well as set it back up. We also provide permit services, lot/pad preparation, installation of tie downs, foundations, decks, awnings and skirting. We even haul homes to the dump. We complete the job from start to finish. If you are in the market to purchase a home, we can help you with that as well. If you are interested in buying or selling a home call (614) 321-9390 Or submit the Online Contact Form.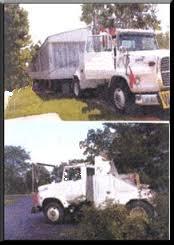 We can not express how valuable it is to do a site inspection before entering into a contract with a customer. Here at Americas Choice Mobile Home Services. We inspect both the pickup and delivery sites. We want to make sure that we cover all our bases ahead of time to ensure a smooth transition. We cover all our bases ahead of time to ensure a smooth transition. We check the site for any possible obstructions on removing the home from the site. We look for trees, fences, gates, low hanging wires, steep hills, narrow driveways, dirt roads, etc. We also take into consideration the weather conditions. Not only do we inspect the property, but we also inspect the home that needs relocation. We look to see if axles and tires are attached to the home. We inspect your decks, awnings, and any possible added on rooms or expandos. In essence, we determine how big the job is and what be required to get it done. We educate our customers about the necessary steps in order to relocate their home as well as anything they can do themselves to save money and ensure a safe move. Once we have seen the job, we than give the customer a true estimate. At this point, there are no hidden fees! We are very precise on our bids due to the fact that we have seen the job and know what it will entail.
Prepare home for transport "Tear Down"
This Process involves disconnecting Utilities, removing skirting, decks and awnings, installing the tow bars, installing axles & tires and removing supports from underneath home. If your Home is a double or triple wide, we provide special equipment to safely separate your house into two or three sections. We than wrap each section with a 6 mil weather proof plastic for transport. When our Crew is done tearing down a home it is now ready for transport.
Setting your home back up requires skill and precision which comes from our experience in the industry. Our set up process consists of blocking and leveling the home, bolting the floor and roof together, installing a ridge cap on the roof as well as hooking up the utilities and standing inspection. We also install tie downs (temporary foundation) or foundation piers (permanent foundation), which ever is a required in your area. We also help with the installation permit process. We have the engineering on both temporary and permanent foundations that must be submitted to receive your permit.
We send our drivers out to the site in our trucks designed specifically to transport manufactured / Mobile Homes. Our drivers thoroughly inspect the home to ensure that it's ready to safely transport down the road. We than carefully attach the home to the truck for transport down the road to its destination. Before the home is transported, we pull all the necessary transportation permits for the trip. Our transportation route is predetermined according to the width, length and height of the home. In some cases, if your home is greater than 12 feet wide or must be transported on a 2 lane highway, a pilot car escort may be required. When this is necessary, we use our in house pilot car service.
Before setting up your home, an installation permit must be obtained from the jurisdiction in which your home is being relocated. This is either the city, county or state. In order to obtain your permit, you must provide the jurisdiction with detailed information about your home as well as the property on which it will be located. Here are some of the items that are required for submit with your permit application.
Site Plan (plot plan) drawn to scale. This is typically required to be submitted on 11x17 size paper. A site plan must show the proposed location of the home, location of utilities and any existing structures, as well as distances from the property lines.

Manufacture's installation instructions

Marriage line details with load calculations

copy of the floor plan
Engineering for temporary (Tie-downs) or permanent foundation
Once your home is set up, we provide even more extensive services to complete your project. Some of these services include installation of skirting, decks/porches, ramps and awnings.
Skirting - Customers can choose from wood to match siding of home or vinyl.Decks/porches and ramps - Custom build to customer's preference with choice of material - doug fir, redwood or trex (composite).Awnings - Typically installed with aluminum for carports and or decks.
In some cases, it becomes difficult or nearly impossible to place your home in the desired location with our trucks alone. This can occur on narrow or steep driveways with sharp turns or maneuvering around existing buildings, trees or fences. We have special equipment and the skill to make it happen! Two pieces of very valuable equipment are known as the translift and the remote tractor. A translift is a piece of equipment that helps move the house around tight corners. A remote tractor helps narrow driveways or steep inclines or declines.
CALL FOR QUOTE :
TRANSPORT/ SET-UP/ SERVICE
MOVE * SET - UP, BLOCK & LEVEL, PLUMBING, ELECTRIC,
WATER LINES, PARK PEDESTAL ELECTRIC HOOK-UPS,
SIDING, WINDOWS, AWNINGS, ROOF WORK, DECKS
INTERIOR WALLS & FLOORING. WE DO IT ALL!

24 HR. HOTLINE
(614) 321-9390

or

Call Cell Phone#(614)209-5744
Email :shelter.america@gmail.com
Fax #: 1877-828-8181